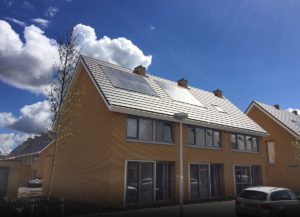 We are pleased to announce a collaboration with Viridian Solar to make its Clearline Fusion range of roof integrated solar panels available to customers in the Netherlands. Why Clearline Fusion from Viridian Solar?
• Economical; price is comparable with above-roof systems.
• Compact; industry-leading panel spacing. The gap between rows is only 5 mm. Columns are spaced by 30mm.
• Rapid; installation times of less than 1 hour per kilowatt-peak are easily attainable. Our patented connection method means that panels are simply pushed together to create a weather-tight and secure fixing.
• Aesthetics; roof integrated panels sit lower tot he roofline without brackets an racking on show to look like an intended part of the roof.
• Simple; fusion achieves exceptional fire performance, wind resistance and weather tightness.\
• Complete; everything you need is right there in the kit. You don't need extra roof battens, adhesive flashing rolls of fire proofing materials.
• Robust; certified wind resitance is more than four times higher than competitor products.
Viridian Solar Fusion PV16-300 (300Wp), mono with PERC-technology) and PV16-270 (270Wp – mono) will be available from stock from August 2017.